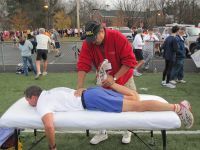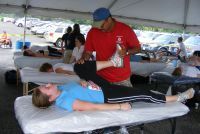 Tony Trujillo, LMT (CT License 005215)
I am based out of the Creative Hair Salon, 21 First Street in East Norwalk, CT and I am the owner of Tony's Kneaded Touch Massage & Bodywork. I began my massage career at the Connecticut Center for Massage Therapy in Westport, where I graduated with honors in July 2007.
If you suffer from ...
* Neck pain and headaches
* Upper back and shoulder pain
* Lower back and hip pain
* Painful or stiff movement anywhere ... then
I CAN help you !
My sessions offer safe, comfortable, therapeutic treatment focusing on optimal sports performance, injury prevention and rehabilitation, pain management, stress relief and improved quality of life. I tailor my work to fit your specific needs, so you are in control of your session. I believe that the balance of body, mind and spirit is essential for a greater sense of self-awareness and overall health and wellness.
In addition to offering mobile therapeutic table massage services, I am also available for corporate on-site chair massage, charity fundraising events, engagement parties and bridal showers, silent auctions, raffles, door prizes and staff & employee recognition awards.