"My heartfelt thanks to Tony Trujillo of Tony's Kneaded Touch who saved me from excruciating back pain by not only working his magic, but making a house call to boot. Best massage therapist EVER !"
Jennifer C., 48, Entrepreneur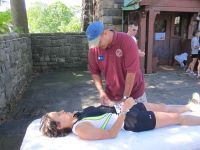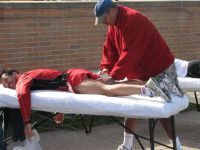 "Thank you so much for helping me recover from my hard runs, rides and races. Your techniques have helped me to loosen and unlock my back and hips and have really kept me and so many of my friends going strong. Thanks for being a thorough and listening massage therapist and for helping me continue to be able to do all these crazy Ironmans and ultra-rides. You are truly very talented."
Clare Z., 37, C.P.A. & Triathlete
"Two years ago I experienced my first running injury, a strained hamstring. It sidelined me for a while, causing me to miss a marathon and various other races. The secret to my recovery and success was adding massage therapy to my training routine. I was very fortunate to find Tony Trujillo, who has kept me running through a number of races I would have never been able to do without his magic touch."
Dorothy W., 53, Runner
" I can't live without my massage therapist, Tony Trujillo. I have many severe chronic pain issues that I manage on a daily basis. From the first day I met Tony, he has been kind and caring about my individual circumstances and tailored a passive stretching massage program just for me. There are tremendous benefits of this wonderful treatment. I have relief from constant pain after a session, I am not as stiff, my balance is improved, my stress level from managing pain is decreased and I have more restful sleep. Working with Tony, along with other adjunct exercise routines and therapies, has liberated me from physical therapy 3 to 4 times a week for over 7 years. Tony's individual hands-on approach to pain management is nothing short of a miracle."
Nora P., 49, Owner of Coconino Consulting Services
" I received prenatal massages from Tony every week of my pregnancy. During the beginning, it was a great stress reliever for me. Toward the end, I was amazed at how it alleviated my back pain and spasms, for which the doctors told me that there was nothing that they could do to help me. I'm convinced that my baby is such a calm baby, who sleeps through the night at six weeks, because of the benefits he received through the prenatal massages."
Christie H., 33, stay-at-home mom, on the birth of her third son
" Nagging, stiff and tender right hamstring ... tried everything. Time off, massage, stretching, strength training, ice and heat. So I decide to go to Tony Trujillo in Norwalk. One hour of him rubbing it, twisting it, stretching and it is gone !!! Thank you Tony. Friends, I highly recommend him as a Licensed Massage Therapist. Time to run ... Yahoo !!!"
Tom F., 42, Traffic Manager
" In 2007, I returned to competitive long distance running after a twenty year absence. I started slowly by participating in 5k and 10k road races and then gradually increased my training and distances. Tony was instrumental in helping me recover from my workouts and races by providing me with his sports massage skills, techniques and stretching protocols. I successfully completed my first ever marathon, without any injuries, in Vermont on Memorial Day weekend 2008. I can't emphasize enough the importance and role receiving massage therapy from Tony had in achieving my goal."
Jeanette T., 46, NY & CT Licensed Psychologist

" After a massage by Tony, I am transported into a clean, clear frame of mind akin to a post meditative state. My regular schedule of massages has enhanced my creativity as well as making me feel just more relaxed and all-around healthy."
Mary E., 51, Toy industry product developer and Pres. of the Inventors Association of Connecticut